Vakantie tip; blotevoetenpad
Bijna onvoorstelbaar maar na een berg koude en regen, gaat de lente dan eindelijk komen!
Daarom hebben wij een leuke tip om samen met je kinderen op pad te gaan; een blotevoetenpad. Een blotevoetenpad? Jazeker!
Op blote voeten lopen
Op blote voeten lopen heeft een aantal voordelen. Het is goed voor je evenwicht. Zeker als je in de groei bent en je hersenen continu aan het aanpassen zijn aan je nieuwe lichaamsgrootte. Het is goed voor je gevoel aan de voet, maakt het je lichaamsbewust (wat voel je?) en je kunt goed contact maken met de aarde. Voor kinderen (ook grote kinderen) is dat heerlijk en voor jou als ouder betekent dat een paar heerlijke zand/ moddervoetjes en samen dolle pret!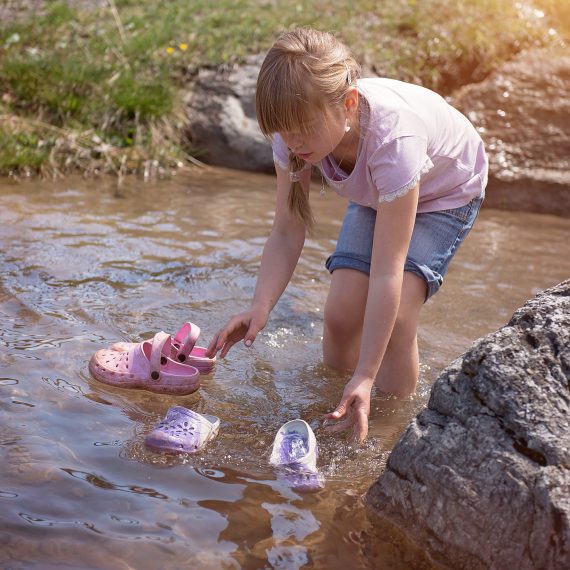 Blotevoetenpad
Door over verschillende materialen te lopen met blote voeten maakt het je bewust van je voeten. Je kent dat gevoel wel van het strand. De korreltjes warm zand tussen je tenen, het koude water dat het er van af spoelt en de schelpjes die je soms voelt. Of het gras dat kriebelt onder je voeten. Het geeft een gevoel van vrijheid. Hoe zou het zijn als dat in een weiland of bos zou kunnen?
Je kunt natuurlijk overal op je blote voeten gaan wandelen, maar niet alle wandelroutes zijn hiervoor even geschikt. Paden zijn niet altijd schoon en er kan glas liggen.
Een blotevoetenpad is wel geschikt om op blote voeten de natuur te ervaren. Het zijn korte wandelroutes variërend150 mtr- 2 km in Nederland en België. Je loopt er over verschillende soorten ondergrond; van zacht gras en fijn zand tot schelpen, grind en keien of grote houtsnippers.
Verschillende paden
Er zijn verschillende soorten paden. Sommigen zijn heilzaam bedoeld als ontspanningswandeling met natuurlijke voetmassage. Anderen zijn bedoeld om een boodschap mee te geven (educatief) of het avontuur op te zoeken door te klimmen en klauteren over een evenwichtsbalk, touwladder en door de modderplassen te gaan.
Enkele paden in de buurt:
Wijchen, Rosmalen, Heeswijk-Dinther
De lente is echt in aantocht gelukkig. Een mooie gelegenheid nog even van de natuur op blote voeten te genieten. Veel plezier!
Opgelet; mensen met diabetes mellitus of gevoelsstoornissen aan voeten (neuropathie) adviseren wij met schoenen mee te doen ter bescherming van de voeten.
Heb je vragen of wil je een afspraak maken? Vul het contactformulier in en wij bellen je terug.