Ingegroeide teennagel(s), hoe kom ik er voor altijd vanaf?
Herken je dat? Last van een ingegroeide teennagel waar je maar niet vanaf komt? Je hebt al van alles geprobeerd. Maar de nagel blijft steeds maar ingroeien.
Specialisatie
Bij podotherapie Peeters blijven we ons ontwikkelen. Zo ook op het gebied van ingegroeide teennagels. Helpen verschillende conservatieve therapieën zoals voetbehandelingen of nagelbeugels niet? Of is er al ooit een stukje nagel weggehaald maar komt deze terug? Mogelijk kunnen wij je verder helpen.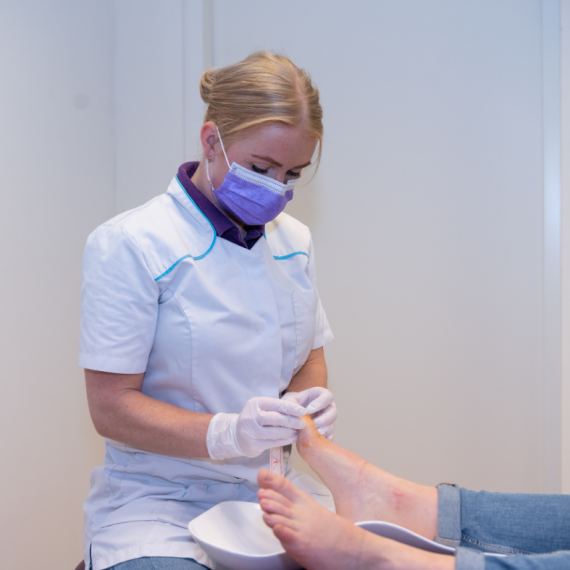 Partiële nagelresectie/ nagel versmallen
Bij ons in de praktijk heeft Liselot zich namelijk gespecialiseerd in partiële nagelresectie ofwel het versmallen van de nagel. Dit is een kleine chirurgische ingreep waarbij onder verdoving een deel van de nagel (wat ingroeit) verwijderd wordt. Door de methode die we hanteren en de tijd die we nemen voor een ingreep, zijn de resultaten zeer goed te noemen en zien we weinig terugkerende klachten. Deze behandeling wordt uitgevoerd wanneer de nagel niet meer te behandelen is door middel van conservatieve therapieën zoals voetbehandelingen en nagelbeugels.
Voor welke nagels?
Een reepje nagel verwijderen doen we bij nagels die te breed zijn voor het nagelbed. Hierdoor gaat de nagel steeds aan de zijkant in de huid steken. Hierdoor ontstaat er steeds opnieuw een ontstekingsreactie welke pijn geeft. Een nagelbeugel geeft bij deze brede nagels geen verlichting.
Door een reepje nagel te verwijderen tot in de kern, wordt de nagel smaller en groeit deze niet meer breed uit. Dit komt door de fenol die voorkomt dat er nieuwe nagel gevormd kan worden op de plaats waar het verwijderd is. De kans dat er toch nieuwe nagel terug komt, is zeer gering.
Herken je het probleem van (steeds weer )die ingegroeide nagel(s)? Heb je vragen of wil je meer informatie? Neem dan contact met ons op. Wij helpen je graag!
Heb je vragen of wil je meer informatie? Vul het contactformulier in en wij bellen je terug.