Nu er sneeuw ligt; loop als een pinguïn
Het lijkt wel winterwonderland buiten. Kinderen op de slee. Sneeuwballen maken, bergen stapelen. Maar als je niet oppast ook de ideale gelegenheid om flink onderuit te gaan. Oppassen dus.
Wij zetten 3 tips op een rij om de sneeuw goed door te komen.
1. Trek goede schoenen aan
Nu roepen wij dat altijd al, maar nu is het echt belangrijk.
Kies schoenen met een grof loopprofiel. Denk aan wandelschoenen, laarzen of snowboots. Een sportschoen heeft niet altijd een grof profiel en is hierdoor niet altijd even geschikt voor in de sneeuw.
Denk ook aan een lekker warm paar voor als je je natte schoenen uittrekt als je weer binnen bent.
2. Loop als een pinguïn

Je merkt zelf al dat je wat voorzichtiger wordt. Verkrampt lopen is niet zo handig en jammer, want een heerlijke wandeling in de sneeuw met een zonnetje erbij kan echt genieten zijn.In de verse sneeuw kun je vaak lekker wandelen, omdat je wat meer weerstand van de grond krijgt. Ligt er meer ijs of is de sneeuw aangestampt, loop dan als een pinguïn.
Pinguïns lopen rechtop en maken korte passen. Hierdoor blijft het lichaamszwaartepunt boven het voorste been, waardoor ze gemakkelijker recht op blijven staan.
Het nemen van grote passen, maakt ons normaal sneller. Nu vergroot dat het risico op een landing in de sneeuw en dat kan soms tot pijnlijke blessures leiden.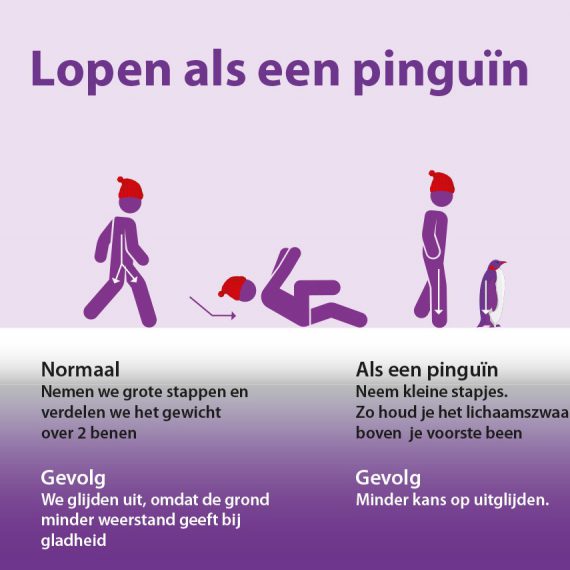 3. Heb geduld
Als je niet per se moet, blijf dan lekker binnen en geniet van de ansichtkaart die het nu buiten is.
Op de meeste plaatsen lijkt het sneeuwen gestopt en is de verwachting dat wegen, voet- en fietspaden snel weer sneeuwvrij gemaakt kunnen worden.
Toch een smakkerd gemaakt?
Heb je toch pech en ben je gevallen? Kijk dan even aan of je klachten vanzelf herstellen. Blijven er klachten aan voeten of enkels? Neem dan contact met ons op, dan helpen we je graag verder.
Wil je dat wij contact met je opnemen? Vul dan het contactformulier in.