'Let op, loop niet op je tenen!'
Zeg je dit ook regelmatig tegen je zoon of dochter? Heb je je hier wel eens zorgen over gemaakt? Wat is tenenlopen nu eigenlijk en waar komt tenenlopen vandaan?
Tenenlopen, wat is het?
We spreken van tenenlopen wanneer iemand geen of een verminderd hielcontact maakt tijdens het lopen. Vaak heeft het kind zelf geen last van het tenenlopen.
Wie loopt er op de tenen?
Zodra een kindje gaat lopen is het op de tenen lopen nog normaal. Dit verdwijnt meestal binnen 3 tot 6 maanden. Soms komt het voor dat een kind toch op de tenen blijft lopen en het niet uit zichzelf verdwijnt. Dit kan meerdere oorzaken hebben.
Wat zijn de oorzaken van tenenlopen?
Tenenlopen kan verschillende redenen hebben. We zetten er een aantal op een rij:
Gewoonte: Het kan een gewoonte van iemand zijn. Er zijn dan geen structurele afwijkingen aanwezig.

Verkorte kuitspieren: Tenenlopen kan ook het gevolg zijn van te korte kuitspieren of een afwijkende vorm van de botjes in de voeten.

Pijn ontzien : Wanneer iemand last heeft van de hiel, kan hij ook op zijn

tenen lopen om de hiel te ontzien.

Aandoening : Tenenlopen komt meer voor bij kinderen met een neurologische aandoening, spierziekte, autisme en ADHD.
De oorzaak van tenenlopen is niet altijd duidelijk. In de meeste gevallen kan het kind de voet wel plat belasten als er om gevraagd wordt. Wanneer er geen afwijkingen gevonden worden in het onderzoek, zie je vaak dat het tenenlopen in de loop van de tijd weer verdwijnt.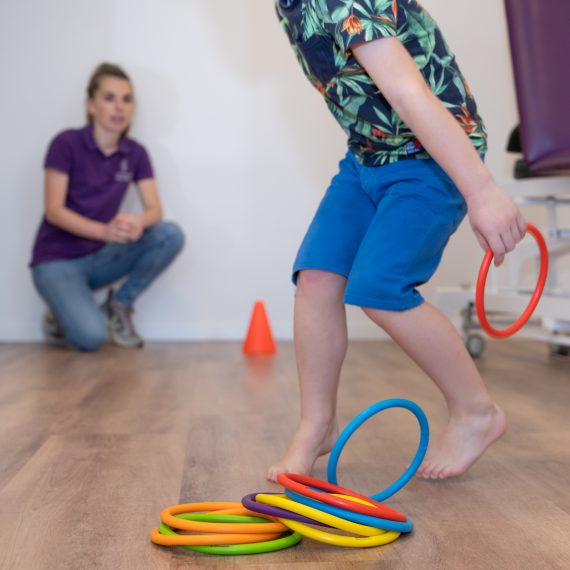 Behandeling tenenlopen
Mocht je twijfelen over het looppatroon van je kind dan kunt je een afspraak maken bij de podotherapeut. De podotherapeut onderzoekt de stand, bewegingsuitslagen en kijkt naar het looppatroon van uw kind. Aan de hand van dit onderzoek kan de podotherapeut tips en adviezen geven met betrekking tot het looppatroon en de schoenen. Tevens kunnen podotherapeutische zolen ook hulp bieden.
Ook kan de fysiotherapeut hier een rol in spelen. Zij kunnen bijvoorbeeld begeleiding geven in het rekken van de kuitspieren, maar ook het trainen van kracht, en balans. Wij werken nauw samen met de kinderfysiotherapeut.
Het komt voor dat tenenlopen behandeld moet worden doormiddel van gipsen of het dragen van een brace. Tevens kunnen er chirurgische behandelingen plaatsvinden bij anatomische afwijkingen. Dit gaat veelal via de kinderorthopeed.
Vragen over tenenlopen? Vul het formulier in en wij bellen je terug voor een afspraak.