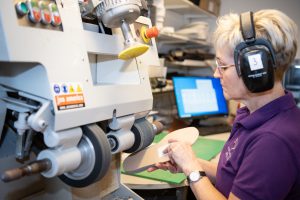 Wij hebben een plekje vrij in ons team! Kom jij ons versterken?
Ben jij onze rechter hand?
Vacature ondersteunend medewerker m/v
Ben jij podotherapeut in opleiding en wil je alvast een start maken door de podotherapeut te ondersteunen? Vind je het leuk om zolen te slijpen? Sta je graag mensen te woord aan de balie of aan de telefoon?
Wil jij je graag verder ontwikkelen in een klein team met fijne collega's, waar volop ruimte is voor persoonlijke begeleiding? Dan is deze vacature jou op het lijf geschreven en zijn wij op zoek naar jou!
Podotherapie Peeters is gespecialiseerd in het behandelen van sporters en kinderen. Voor versterking van het team in onze vestigingen in Oss, zijn wij op zoek naar een: ondersteunend medewerker (lab + telefoon) (m/v); 8-16 uur per week bij voorkeur voor maandag en vrijdag of een van deze twee dagen.
Functieomschrijving:
Als ondersteunend medewerker ben jij de rechter hand van de podotherapeut. Je bent handig met je handen en bent sociaal ingesteld.
Functie-eisen:
– het volgen van de opleiding podotherapie heeft de voorkeur;
– je hebt handige handen en kunt licht administratief werk; natuurlijk kunnen wij je van alles leren
– je bent een mensen-mens;
– je bent zelfstandig, leergierig, flexibel en creatief;
– je hebt affiniteit met de zorg.
Wat bieden wij je?
Ben jij de juiste medewerker die we zoeken om de kwaliteit van onze dienstverlening hoog te houden? Dan kun jij rekenen op een uitdagende en afwisselende baan in een hecht team van gemotiveerde professionals. Uiteraard past daarbij een marktconform salaris en goede arbeidsvoorwaarden.
Over ons
Podotherapie Peeters is gespecialiseerd in het behandelen van sporters en kinderen. Door onze expertise op het vlak van voetklachten in relatie met problemen aan het bekken en het lage rug-gebied, werken we nauw samen met manueeltherapeuten, sportartsen en fysiotherapeuten en andere zorgverleners. Bij onze werkzaamheden krijgen we ondersteuning van een praktijkondersteuner.
Wij staan voor kwaliteit en service. Dat betekent dat we in de praktijk continu op zoek gaan onze kwaliteit te verbeteren. Hierdoor is er altijd ruimte om te leren.
Interesse?
Stuur je cv naar:
Podotherapie Peeters
t.a.v. Jannette Peeters
Obrechtstraat 31
5344 AT Oss
Of mail je reactie naar jannette@podotherapiepeeters.nl. Hier kun je terecht als je meer informatie wilt. Bellen kan uiteraard ook via telefoonnummer 0412 – 632173.