Waar moet je op letten bij het aanschaffen van kinderschoenen?
De schoenen zijn weer te klein. Nog even snel naar de schoenwinkel. Waar let je op bij het aanschaffen van kinderschoenen?
Wij geven je graag advies!
Voor welk doel gebruik je de schoen?
Kinderen gebruiken schoenen anders dan volwassenen. Ze kruipen, rennen, gaan in de zandbak en remmen met hun schoenen de fiets af als dat nodig is. Daarnaast spelen leeftijd, ontwikkeling en activiteit een rol bij welke eisen je stelt aan een kinderschoen.
Kinderen die net beginnen met lopen
De eerste kinderschoenen zijn nodig wanneer een kind 5 weken kan lopen. Het voetgewelf is dan aangepast aan de belasting. In deze fase kies je voor een 'first step' (eerste stapjes) schoen. Deze hebben een soepele loopzool in het geheel, zijn licht van gewicht en hebben een soepele hielomsluiting. De functie is beschermen van de voetzolen en de voet zo veel mogelijk vrijheid geven te ontdekken.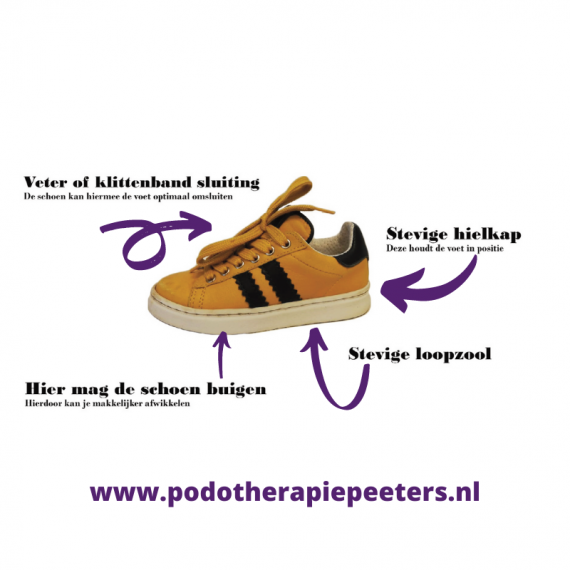 Kinderschoenen
Kinderen die uit de eerste stapjes schoenen groeien, kunnen vaak al goed stabiel en zelfstandig lopen. Vanaf dan mag een schoen een stevigere hielkap en loopzool hebben, maar moet buigzaam zijn onder de voorvoet om af te wikkelen. Belangrijk is dat de schoen het looppatroon niet hindert.
Regelmatig meten
Kindervoeten kunnen de eerste twee tot drie jaar twee tot drie maten per jaar groeien. Daarom adviseert de podotherapeut elke 3 maanden te controleren of de schoen nog past.
Tip: haal de binnenzolen uit de schoenen en kijk naar de afdruk die door het dragen zichtbaar is geworden. Is er geen groeiruimte (ongebruikte ruimte) meer? Dan is het tijd de schoenen te vervangen.
Kom je er niet helemaal uit of heb je toch vragen? Stel ze gerust aan de kinderpodotherapeut.
Kom je er niet helemaal uit of heb je toch vragen? Stel ze gerust aan de kinderpodotherapeut. Vul het formulier in en wij nemen contact met je op. Vul